通过抗体工程手段,有效强化抗癌效应,同时最大限度地降低免疫治疗相关不良反应的的新一代抗CTLA-4抗体产品。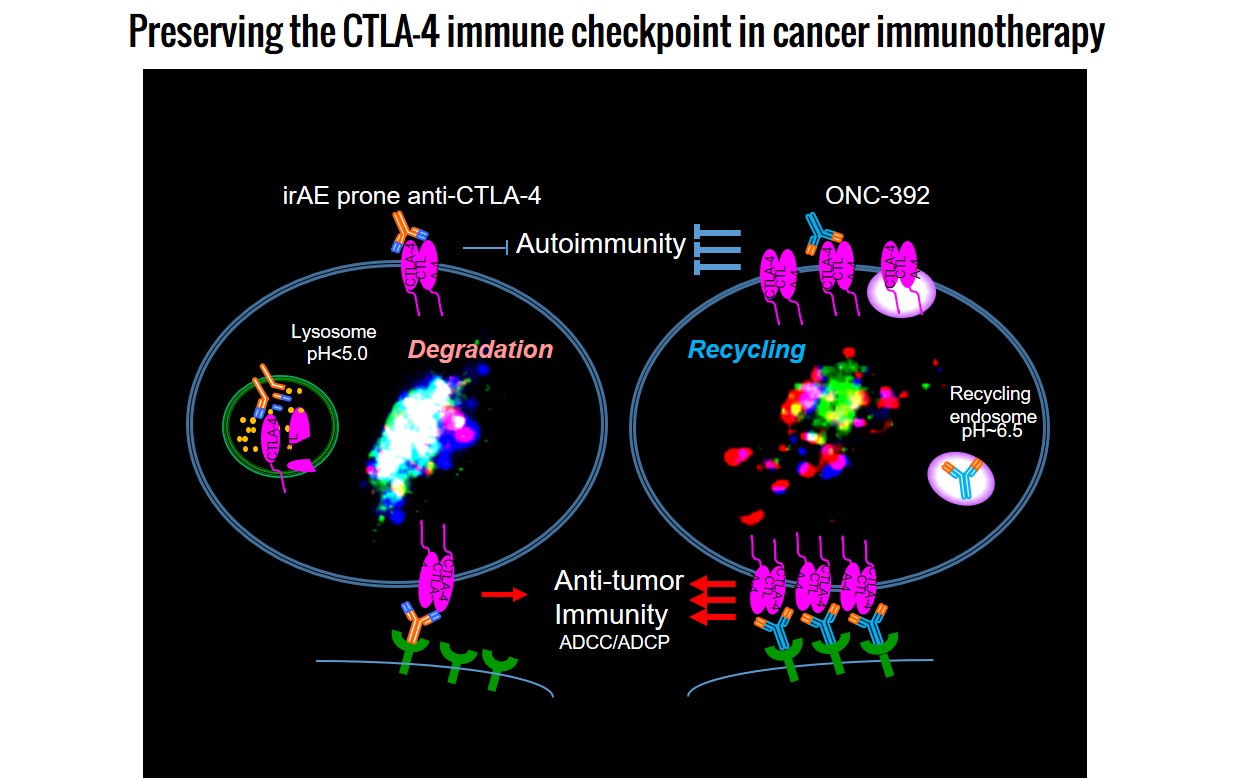 目前,靶向CTLA-4的抗体药物(伊匹单抗)用于肿瘤治疗有效,但75-90%的患者存在免疫治疗相关不良反应(irAEs)。刘阳/郑盼教授实验室最新研究成果阐明了靶向CTLA-4抗体药物的抗癌效应(CITE)和irAEs的机制,并且通过抗体工程手段,成功开发能够有效地强化抗CTLA-4抗体的CITE,同时最大限度地降低irAEs的新一代靶向CTLA-4的免疫治疗产品。
目前,ONC-392注射液在中美两国均已进入一期临床研究阶段。
参考文献:
Zhang, P., et al. (2020). "Mechanism- and Immune Landscape-Based Ranking of Therapeutic Responsiveness of 22 Major Human Cancers to Next Generation Anti-CTLA-4 Antibodies." Cancers (Basel) 12(2).

Liu, Y. and P. Zheng (2020). "Preserving the CTLA-4 Checkpoint for Safer and More Effective Cancer Immunotherapy." Trends Pharmacol Sci 41(1): 4-12.

Paluskievicz, C. M., et al. (2019). "T Regulatory Cells and Priming the Suppressive Tumor Microenvironment." Front Immunol 10: 2453.

Zhang, Y., et al. (2019). "Hijacking antibody-induced CTLA-4 lysosomal degradation for safer and more effective cancer immunotherapy." Cell Res 29(8): 609-627.

Liu, Y. and P. Zheng (2018). "How Does an Anti-CTLA-4 Antibody Promote Cancer Immunity?" Trends Immunol 39(12): 953-956.

Tang, F., et al. (2018). "Anti-CTLA-4 antibodies in cancer immunotherapy: selective depletion of intratumoral regulatory T cells or checkpoint blockade?" Cell Biosci 8: 30.

Du, X., et al. (2018). "A reappraisal of CTLA-4 checkpoint blockade in cancer immunotherapy." Cell Res 28(4): 416-432.

Du, X., et al. (2018). "Uncoupling therapeutic from immunotherapy-related adverse effects for safer and effective anti-CTLA-4 antibodies in CTLA4 humanized mice." Cell Res 28(4): 433-447.

May, K. F., Jr., et al. (2005). "Anti-human CTLA-4 monoclonal antibody promotes T-cell expansion and immunity in a hu-PBL-SCID model: a new method for preclinical screening of costimulatory monoclonal antibodies." Blood 105(3): 1114-1120.

Lute, K. D., et al. (2005). "Human CTLA4 knock-in mice unravel the quantitative link between tumor immunity and autoimmunity induced by anti-CTLA-4 antibodies." Blood 106(9): 3127-3133.